Grand Palms Resort's Wide Array of Amenities
Updated: Jul 21
*Updated July 2021
What amenities do you have and are they "included"?


All of our amenities are included and available to all our guests. Upon check-in you receive a recreation pass which grants access to all of the Resort Amenities. Enjoy our Complimentary Shuttle Service, Indoor Pool, Outdoor Pool, Lazy River, Fitness Center, Hot Tubs, Activity Center and more. We also offer lots of activities and special events. You can stay up-to-date with the latest season's activities with the Activity Calendar in the Welcome Magazine on our website. *Some activities require a nominal fee
Amenities Include:
Indoor Pool that is heated to a comfortable 80+ degrees all year, includes a Hot Tub and Locker Rooms with Saunas and Steam Rooms. Saunas are currently closed until further notice.

Outdoor Pool with an Infant Pool and Hot Tub

Lazy River with a Splash Deck (Water Playground), a Zero Entry Kiddie Pool and a large Hot Tub

Fitness Center

Playground

Arcade

Grills (Gas and Charcoal)

Seasonal Breakfast Buffet (in the Activity Center) and Poolside Grill (located next to the Outdoor Pool)

A wide array of Activities and Special Events

Complimentary Beach Shuttles

Complimentary WiFi

Complimentary State Park Passes

Business Center at the Front Desk
Read more about all the amenities we offer at Grand Palms Resort in the sections below:


Grand Palms Resort Map


Where are the Resort amenities located?


Refer to the Grand Palms Resort Map in the image above. You'll see the Outdoor Pool, Lazy River, Activity Center, Grills, Indoor Pool, Fitness Center, Day Spa and other Resort Amenities.
Gas Grills located between Building 221 & 223 and 206 & 208
Grand Palms Resort Indoor Pool


The Indoor Pool | Day Spa | Fitness Center has the following Amenities:
Indoor Pool with accompanying Hot Tub

Weight Room/Fitness Center

Locker Rooms with accompanying showers, steam rooms, and saunas

Aerobics Room
All of these amenities are accessed via the Indoor Pool | Day Spa | Fitness Center entrance located across the parking lot from Building 200. Complimentary board games and Myrtle Beach State Park passes along with DVD and beach chair rentals, are all available here. You can also make reservations there for the Mother Earth Day Spa and special Grand Palms Resort events.
The Activity Center has these Amenities:
Breakfast Buffet (every morning from 8 am – 10:30 am)

Arcade (8 am - 10 pm)

Pool Table (check out pool cues and racks at the Indoor Pool Office.)

Many of the Resort Activities are located in the Activity Center. Please refer to Welcome Magazine for our updated schedule.
The Activity Center entrance is across the parking lot from Building 202.
Breakfast Buffet
Enjoy an all-you-can-eat breakfast buffet! The buffet includes scrambled eggs, bacon, sausage, biscuits, grits and gravy, along with waffles and much more!
Arcade at the Activity Center
The Outdoor Pool includes these amenities:
Seasonal Poolside Grill - menu includes burgers, fries, smoothies, ice cream you name it! Please refer to Welcome Magazine for the full Poolside Grill menu.

Hot Tub

Children's Shallow Wade Pool
The Outdoor Pool entrance is across the parking lot from Building 230.
During your stay at Grand Palms Resort, there's plenty of amenities to indulge in!
Grand Palms Resort Outdoor Pool across from the parking lot from Building 230
The Lazy River includes these amenities:
300-ft Lazy River

Wet Deck/Water Playground with Water Toys

Zero-Entry Kiddie Pool

Hot Tub
The Lazy River entrance is to the left of the parking lot from Building 229.
What are the hours for the resort amenities?


The Outdoor Pool & Hot Tubs are open year-round. Open daily from 7 am - 10 pm. The Lazy River hours are 9 am-10 pm. *By limiting the hours of the Lazy River, we're saving owners money by shutting off the pumps and resting the wet deck/water playground during the nighttime hours. The Indoor Pool, Fitness Center, and Activity Center are open 8 am - 10 pm. The Front Desk Office Summer hours are 7 am - 10 pm Monday-Thursday, and 7 am - 11 pm Friday-Sunday. (Hours may be shorter in the non-summer season.)
**Outdoor Pool & Indoor Pool are heated at 80+ Degrees during non-summer season. To lower costs for owners, the Outdoor Pool may not be heated during November through February. The Indoor Pool is heated all year.
Does the Resort have a business center?


There are computers and a printer for guests located at the Front Desk available for quick printing such as tickets, boarding passes, and directions.
Do you have state park passes?


You may check out a complimentary State Park day pass at the Front Desk or the Indoor Pool Office. But act fast; these are very popular and go quickly! They are distributed on a first come, first serve basis and are limited to 1 pass per reservation. These day passes must be returned to the office from which you checked it out by 9 pm to avoid any late fees.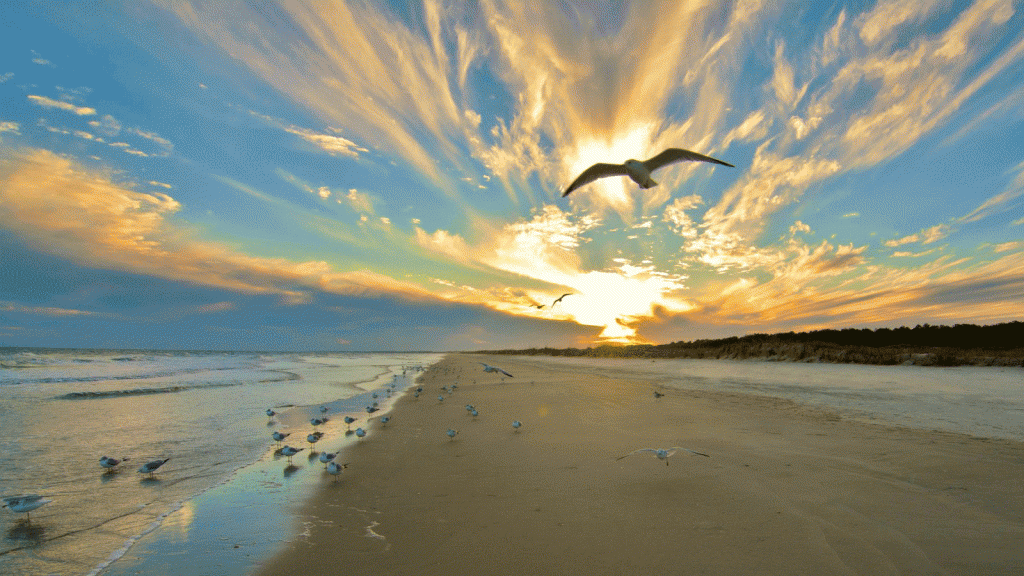 Huntington Beach State Park just south of Grand Palms Resort in Murrells Inlet
Photo Source: expedia.com
What do I need to bring on my vacation at Grand Palms Resort?
We provide complimentary items such as soap and shampoo, dish soap, paper towels, salt and pepper, and laundry detergent so that your arrival will be as carefree as possible. Our condos are fully equipped with sheets, towels, linens, utensils, and all that's needed for your Myrtle Beach vacation.
Want to know how to pack for your beach vacation? Read our blog, Top Travel Hacks: How to Pack for a Beach Vacation
Who do we call when we run out of certain amenities (toilet paper, linens, trash bags, etc.)?
Please call Housekeeping at extension 1700 and one of our friendly housekeepers will be happy to deliver them to you. To reduce our environmental footprint, we kindly request your participation in the following conservation initiatives:
Please rehang any towels you are willing to reuse.

During your stay, towels will be refreshed and garbage will be removed usually on the fourth day of a 7-night stay.

Additional bath products are available upon request by calling extension 1700.
*Linen change and additional services are available for a nominal fee. To make a request for these services, please call Housekeeping at extension 1700.
Can I bring my cooler and chairs on the shuttle?
Yes, we have a limited storage area at the rear of each shuttle. If you need assistance, please ask. Our drivers are always happy to help!


Lazy River
Do I need my recreation pass?
The recreation pass you received at check-in is required for admittance to the Indoor Pool, Fitness Center, Outdoor Pool, Lazy River, the Beach Shuttle and any activities. For your convenience, we suggest you use your smartphone to take a picture of your pass for admittance.
How do I log onto the WiFi?
We are excited to offer WiFi service from Spectrum.
Please follow these steps to log onto the WiFi service:
Turn on your device.

Open your list of available wireless networks.

Select GrandPalmsResort.

Launch your internet browser and follow the instructions there.
If you encounter any issues, please contact Spectrum at 866-536-7676.
Where do I find a list of available TV channels?
Your in-room guide found in your condo lists all the channels available for your TV. See the Welcome Magazine here for the full channel guide. If you have any technical difficulties, please call Spectrum at 866-536-7676.
Is Grand Palms Resort located on the beach?
Grand Palms Resort is just 2 miles from the beach and we offer a complimentary shuttle service. The shuttles will take you from the Resort to Surfside Beach in about 10 minutes helping you to skip the hassle of traffic, as well as finding and paying for parking. We are surrounded by picturesque water features and beautiful flora and fauna, and you'll love the view at Grand Palms Resort. Please understand, the spacious accommodations that Grand Palms Resort offers aren't available at most beachfront locations.
When do the shuttles run?
The beach shuttles run every day. Please refer to our Welcome Magazine for the most updated shuttle schedule.
Plan Your Vacation at Your Favorite Destination
Have some additional questions or want to go ahead and reserve your stay? Call one of our friendly Reservation Representatives at 888-913-4477 or email us at reservations@grandpalmsresortmb.com.