FAQ – Answers to Your Most Asked Questions
Updated: May 27
*Updated April 2023
We love answering your questions!
We love talking with our owners and guests. In our conversations we've noticed that there are certain questions that are often asked. We hope this list of frequently asked questions (FAQ) helps you with your Grand Palms Resort vacation experience. If you have a question we've missed, please post them in the comments and we'll be happy to answer them for you!
To make it easier to find the answer to your question, we've grouped questions into these categories (click on the category to go directly to it in the article):
Grand Palms Resort Marquee Sign
New and Exciting Name for Our Resort
We are pleased to announce a new era at our Resort. At the beginning of 2021, Plantation Resort was renamed Grand Palms Resort. Read the full article about our name change here.
Covid-19 Update – Grand Palms Resort is Fully Open and Ready to Welcome You!
Hey, you! Yes you. We've missed you. We hope you and your loved ones have been safe during this challenging time. We're excited to announce that Grand Palms Resort is now fully open for business and ready to welcome you! Read the full article for our Covid-19 Update.
Wyndham Destinations' and Grand Palm Resort's Partnership


When did Wyndham partner with Grand Palms Resort and what is the relationship?


In late 2017, Wyndham Destinations partnered with Grand Palms Resort to assume all timeshare sales and marketing at the Resort. Grand Palms Resort continues to manage resort operations and support existing Grand Palms Resort owners.
Why did Grand Palms Resort look for a partner?


Due to the dramatic rise in the cost of timeshare sales and marketing in recent years, it was becoming too costly for Grand Palms Resort to continue selling timeshare inventory on its own. We searched for a partner who would successfully sell our timeshare inventory to combine their strengths in sales and marketing with ours of resort management and operations. After researching a number of opportunities, we're delighted to partner with Wyndham Destinations, the undisputed world leader in timeshare sales and marketing.
Why partner with Wyndham?


Wyndham, as the world leader in the timeshare industry, provides an extraordinary product along with unsurpassed sales and marketing expertise. Grand Palms Resort has a long-standing record in providing an exceptional guest experience. This gives Grand Palms Resort owners the best of both!
How does this partnership benefit me as a Grand Palms Resort Owner?
This partnership provides many benefits for you as a Grand Palms Resort owner. Here are a few examples:
This new relationship will help provide Grand Palms Resort with greater financial stability enabling us to continue to offer you wonderful vacations for many years to come.

When you became a Grand Palms Resort owner, you joined a homeowners association (HOA). The HOA collects and manages owners' maintenance fees. There have been some weeks where your HOA has not been able to collect maintenance fees from timeshare owners; these weeks are known as defaulted weeks. As part of the Wyndham/Grand Palms Resort partnership, Wyndham has agreed to purchase a large portion of the defaulted weeks in the Resort's HOAs. Since Wyndham is now paying these maintenance fees, they are financially helping your HOA. Wyndham paid over $1.2 million in maintenance fees in 2018 – a contribution of approximately $80 per owner. This contribution will continue year after year.

As Wyndham sells our inventory, new owners will be added to the owner base so there will be more owners to share the HOA costs.

There will also be greater demand for the week you own which will result in greater exchange values through RCI.
Does this partnership change my ownership?


Your Grand Palms Resort ownership remains the same as before this partnership. But if you so choose, you may explore all of the additional benefits that are now available via Wyndham's offerings by attending a sales presentation during your next vacation at Grand Palms Resort.
Who do I call for my sales-related questions?


Wyndham's on-site Quality Assurance Team can answer any sales-related questions or concerns by calling 843-281-3343 or 843-281-3483.
Resort Amenities & Policies


What amenities do you have and are they "included"?


Upon check-in you receive a recreation pass which grants access to all of the Resort Amenities. You will have access to our Complimentary Shuttle Service, Indoor Pool, Outdoor Pool, Lazy River, Fitness Center, Hot Tubs, Activity Center and more. We also offer lots of activities and events on site at the Resort. You can stay up-to-date with the latest season's activities with the Activity Calendar in our Welcome Magazine. *Some activities and amenities may require a nominal fee
Where are the Resort Amenities located?


Refer to the Welcome Magazine for the full Resort map. You'll see the Outdoor Pool, Lazy River, Activity Center, Grills, the Indoor Pool, Poolside Event Center and other Resort Amenities.
Gas Grills located between Building 221 & 223 and 206 & 208
Grand Palms Resort Indoor Pool
The Indoor Pool has the following Amenities:
Indoor Pool with accompanying Hot Tub

Weight Room/Fitness Center

Locker Rooms with accompanying showers, steam rooms, and saunas

Aerobics Room
All of these Amenities are accessed via the Indoor Pool entrance located across the parking lot from Building 200. Complimentary board games, Myrtle Beach State Park passes and beach chair rentals, are all available at the Indoor Pool office. Spa services can also be booked at the Indoor Pool Office for Mother Earth Day Spa.
The Activity Center has these Amenities:
Arcade (8 am - 10 pm) $$

Pool Table (check out pool cues and racks at the Indoor Pool Office.)

Many of the Resort Activities are located in the Activity Center. Please refer to Welcome Magazine for our updated schedule.
The Activity Center entrance is across the parking lot from Building 202.
Arcade at the Activity Center
The Outdoor Pool includes these Amenities:
Seasonal Poolside Grill $$

Hot Tub

Children's Shallow Wade Pool

Poolside Event Center (see details below)
The Outdoor Pool entrance is across the parking lot from Building 230.
Grand Palms Resort Outdoor Pool across from the parking lot from Building 230
The Poolside Event Center:
What was once called the "VIP Center" has been transformed into the "Poolside Event Center." This is where all of our activities and special events will be held throughout the year. This building features a lookout view from our relaxing lounge chairs, plenty of space to get creative with our activities and a projector for movie nights!
Take part in our activities and special events at the Poolside Event Center!
Enjoy the view of the Outdoor Pool from inside the Poolside Event Center.
The Lazy River includes these Amenities:
Wet Deck/Water Playground with Water Toys

Zero-Entry Kiddie Pool

Hot Tub
The Lazy River entrance is to the left of the parking lot from Building 229.
What are the hours for the Resort Amenities?


The Outdoor Pool & Hot Tubs are open year-round. Open daily from 7 am - 10 pm. The Lazy River hours are 9 am-10 pm. The Indoor Pool, Weight/Exercise Room and the Activity Center are open 8 am - 10 pm. The Front Desk Office Summer hours are 7 am - 10 pm Monday-Thursday, and 7 am - 11 pm Friday-Sunday. (Hours may be shorter in the non-summer season.)
**Outdoor Pool & Indoor Pool are heated at 81 Degrees during non-summer season.
Does the Resort have a business center?


Our friendly Guest Services Representatives will be happy to provide a computer space for you located at the Front Desk Building. The Business Center is available for quick printing such as tickets, boarding passes, and directions.
Do you have state park passes?


You may check out a complimentary State Park day pass at the Front Desk or the Indoor Pool Office. But act fast; these are very popular and go quickly! They are distributed on a first come, first serve basis and are limited to 1 pass per reservation. These day passes must be returned to the office from which you checked it out by 9 pm to avoid any late fees.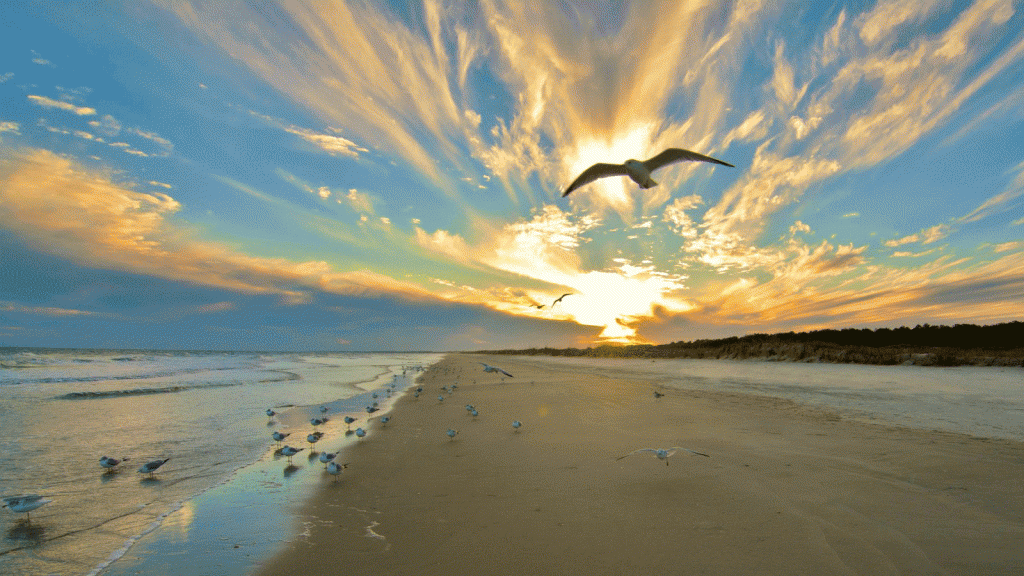 Huntington Beach State Park just south of Grand Palms Resort in Murrells Inlet. Photo Source: expedia.com
Where can we get ice?


Ice is available at the Indoor Pool Office once you show your Recreation Pass you received at check-in. For large quantities, ice may be purchased at the self-service ice stand located just north of the Front Desk on Frontage Road.
Where can we take our trash?


There are large trash containers located on the sides of each building.
Is there a place for me to recycle?


Yes; The recycle bins are located across the street from Building 218.
What do I need to bring on my vacation at Grand Palms Resort?
We provide complimentary items such as soap and shampoo, dish soap, paper towels, salt and pepper, and laundry detergent so that your arrival will be as carefree as possible. Our condos are fully equipped with sheets, towels, linens, utensils, and all that's needed for your Myrtle Beach vacation.
Who do we call when we run out of certain amenities (toilet paper, linens, trash bags, etc.) ?
Please call Housekeeping at extension 1700 and one of our friendly housekeepers will be happy to deliver them to you. To reduce our environmental footprint, we kindly request your participation in the following conservation initiatives:
Please rehang any towels you are willing to reuse.

During your stay, towels will be refreshed and garbage will be removed usually on the fourth day of a 7-night stay.

Additional bath products are available upon request by calling extension 1700.
Linen change and additional services are available for a nominal fee. To make a request for these services, please call Housekeeping at extension 1700. Read more about our housekeepers in our article, 5 Secrets Every Housekeeper Wishes Guests Knew.
Where can I take my outgoing mail?
You may drop your mail off to the Front Desk. They have a tray for your mail that the postal carriers pick up Monday-Saturday. Stamps may be purchased at the full-service US Post Office located at 420 US 17 Business, Surfside Beach less than 5 minutes south of the Resort on the Frontage Road.
Can I bring my cooler and chairs on the shuttle?
Yes, we have a limited storage area at the rear of each shuttle. If you need assistance, please ask. Our drivers are always happy to help! Chair rentals are available at the Indoor Pool Office. Want to know how to pack for your beach vacation? Read our blog, Top Travel Hacks: How to Pack for a Beach Vacation
When do the shuttles run?
The beach shuttles run every day. Please refer to our Welcome Magazine for the most updated shuttle schedule.
Want to know more about our complimentary beach shuttles? Read our blog, Complimentary Shuttle Rides to the Beach and More
Is Grand Palms Resort smoke-free?
All units are smoke-free. Smoking is permitted on your balcony or patio of your unit. Please be sure to keep your doors closed while smoking to keep the units smoke-free. We offer several designated smoking areas throughout the Resort, including locations at the Outdoor parking lot and at the Indoor Pool area (the patio adjacent to the Aerobics Room).
Grand Palms Resort's Lazy River
Do I need my recreation pass?
The recreation pass you received at check-in is required for admittance to the Indoor Pool, Outdoor Pool, Lazy River, the Beach Shuttle and the activities. For your convenience, you may use your smartphone to take a picture of your pass for admittance.
Are pets allowed?
Unfortunately we are a no pets resort. We only accept ADA Service dogs at the resort, proper documentation must be provided upon check in. However, there are several pet resorts close by where they can vacation at during your stay at Grand Palms Resort. We've listed them in our article, Your Pets Deserve a Vacation Too!
How do I log onto the WiFi?
We are excited to upgrade our WiFi to a Spectrum service, which includes the installation of a fiber optic network. Please follow these steps to log onto the new WiFi service:
Turn on your device.

Open your list of available wireless networks.

Select GrandPalmsResort.

Launch your internet browser and follow the instructions there.
If you encounter any issues, please contact Spectrum at 866-536-7676.
Where do I find a list of available TV channels?
Your in-room guide found in your condo lists all the channels available for your TV. If you have any technical difficulties, please call Spectrum at 866-536-7676.
Does the Resort serve alcohol? Are we allowed to bring our own?
The Resort currently does not serve alcohol, but you may bring your own to the pool decks as long as it is in a glass-free container. Please help us avoid broken glass on the pool decks.
Are there any discounts on area attractions?
Access our Digital Welcome Magazine
Our Welcome Magazine is the key to helping you on your way to a wonderful vacation with information regarding the Resort and surrounding areas. The Welcome Magazine contains resort information - hours of operation, resort map, special discounts to local businesses and attractions, activities and events held on-site, the complimentary shuttle bus schedule and so much more!
Directions to the Resort
How do I arrive at the Front Desk?
When it is time to type in the address into your smartphone or GPS, it is important to make sure you type in the correct address. Grand Palms Resort is located just south of Myrtle Beach in Surfside Beach, South Carolina. Please be sure to choose the set of directions that takes you to Surfside Beach (and not ̶M̶y̶r̶t̶l̶e̶ ̶B̶e̶a̶c̶h̶). **Our address is 1251 Grand Palms Resort Dr, SURFSIDE BEACH, SC 29575.
Keep in mind that the Resort is approximately 1 mile away from the Front Desk Building where you check in. Read more on how to find us in the article, Directions to Grand Palms Resort - Navigating to Your Favorite Vacation Destination
How do I find my condo after checking in?
Please refer to our Resort map below.
Is Grand Palms Resort located on the Beach?
Grand Palms Resort is just 2 miles from the beach and we offer a complimentary shuttle service. The shuttles will take you from the Resort to Surfside Beach in about 10 minutes helping you to skip the hassle of traffic, as well as finding and paying for parking. We are surrounded by picturesque water features and beautiful flora and fauna, and you'll love the view at Grand Palms Resort. Please understand, the spacious accommodations that Grand Palms Resort offers aren't available at most beachfront locations.
Distance from Grand Palms Resort to the beach
What if I don't have a car?
There are several taxi companies that will pick you up from your condo, the airport, or wherever you have need. Two local taxi companies are the Anchor Taxi service (843-222-2222) and Cool Breeze Taxi (843-353-1496).
You may also consider Uber or Lyft. Please understand that the Myrtle Beach area is considered a drive-to destination. Having your own transportation makes it much easier for you to enjoy your Myrtle Beach vacation to the fullest.
Housekeeping Questions
What does the towel exchange consist of?
What was once called a midweek refresh is now referred to as a towel exchange. Towels are refreshed and garbage removed on the fourth day (for stays 7 days or longer) between 10 am – 2 pm. You do not need to be present for the service. Additional bath products are available upon request by calling ext. 1700. Daily housekeeping and linen services are available upon request for a nominal fee. Dial extension 1700 for more information.
What if I'm here for two weeks or more? Do you clean at some point during my stay?
Yes, on Mondays or Tuesdays our housekeeping staff will be happy to clean the unit for stays over a week. Additional cleaning services are available upon request for a nominal fee by calling housekeeping at ext. 1700.
What do I need to do in the unit before checkout?
Please help us prepare to make the next person's vacation more enjoyable by rinsing and placing all used dishes in the dishwasher, starting the dishwasher, and by putting trash in the trash cans located on the side of the building.
Check-In Questions
What time is Check-In?
Check-In begins at 4 pm, however due to staffing shortages not only in the Myrtle Beach area but nationwide, there may be delays at check-in. Please keep in mind while you wait you have access to all the Resort Amenities such as the Outdoor Pool, Activity Center, Fitness Center, Beach Shuttles, etc. to enjoy while we prepare your condo. Once your condo is ready, we will notify you. Thank you so much for your patience as we do our best to provide you a clean, comfortable condo at our Resort. We are dedicated to providing you an exceptional vacation experience so please don't hesitate if there is anything we can do to make your stay with us more memorable.
Want to know how to pack for your beach vacation? Read our blog, Top Travel Hacks: How to Pack for a Beach Vacation
What do I need at Check-In?
To expedite the Check-In process, we ask that you have a credit/debit card to be placed on file. If there are any fees due, they will be collected during Check-In. If there are any incidental charges made to your room during your stay, we will collect any balances due at Checkout. You must present a picture ID matching the name on the reservation and you must be 21+ years old. You will also be asked to provide the make, model, and license plate number of your vehicle at Check-In.
Here's a Time Saving Tip: When you leave your car to enter the Front Desk, snap a photo with your smartphone of your vehicle's license plate and front end. This photo will provide you easy access to the make, model and license plate number needed at check-in saving you a walk back to your vehicle a second time to retrieve this information.
Can I Check-In Early?
An early check-in is based on availability - season, weekday/weekend, etc. However, due to staffing shortages nationwide, early check-ins are not common. If you arrive before 4 pm and would like to check in early, you may ask a Guest Services Agent for availability once you've arrived. We will try our best to accommodate an early check-in, however, we cannot guarantee availability. If you'd like to check into your room early, you will need to pay an early check-in fee. This fee is based on availability and the price is contingent upon the proposed check-in time.
How Do I Check In After-Hours?
If you are arriving after 9 pm Monday-Thursday or after 10 pm Friday-Sunday, this is considered checking in "after hours" when the Front Desk is closed. If you know that you will be checking in after-hours, here are the steps for the After-Hours Check-In process:
When you arrive to the Front Desk, you will need to contact the Security Office to notify them of your arrival. For your convenience, there is a phone that dials security directly outside the front doors of the Front Desk (on the left column as you face the front doors). Security will meet you at the Front Desk and escort you to your assigned room.

The following morning, you will need to come to the Front Desk after 7 am to complete the Check-In process by presenting the card on file and your photo ID. At this point you will be issued keys for your condo and your vacation officially begins!

While we understand that situations occur, we always encourage our Guests to check in during business hours so that any discrepancies can be addressed, or special requests can be accommodated.
If you know that you will be checking in after-hours, it is highly recommended you speak with one of our Guest Services Team ahead of time by calling 888-913-4477 to go over the Check-In process and make sure all your questions are answered before your arrival. Read more in our article, Tips & Tricks for a Smooth Check-In at Grand Palms Resort.
What time is Checkout? What are the Checkout Procedures?
Checkout is at 10 am. Trash Receptacles are located on each end of the building. It would be helpful to our team if guests took out the trash, loaded and started the dishwasher, and placed dirty towels and linens in a pile. Keys may be dropped off in the bin located at the Front Desk counter.
Reservation Questions


How many cars can we bring? Are golf carts, trailers or scooters allowed?
Parking is limited, please consider this when making your travel plans. Due to parking constraints, we must limit spaces to only regular vehicles such as cars, trucks and motorcycles. Golf carts, trailers or scooters are not allowed on property. Tip: Glenns Bay Self-Storage can assist you with any additional parking needs, they can be reached by calling 843-385-0104.
What's the difference between vacation rentals, vacation ownership, and leasing?
Vacation rental means reserving a unit for a one-time vacation, as you would on Booking.com. Vacation ownership means purchasing an interval or allotment of time to use at a resort annually—commonly referred to as timeshare. Leasing means renting a unit for a longer term of several months or more, as we do for people who live here year-round. We offer all three options here at Grand Palms Resort.
I own a week in the peak of the summer. Why is it so difficult to reserve my week during this time?
The answer to this question almost always involves reserving early. The summer season is in high demand in Myrtle Beach and reservations fill up fast. Take full advantage of your ownership by scheduling your vacation a minimum of 9 months (up to 2 years) in advance before reservation availability opens for everyone else. Some owners reserve next year's week as they are checking out at the end of this year's vacation. Read more about the benefits of reserving early in our article, Reservation Tip #2: Big Payoffs for Reserving Early.
What is the difference between Presidential Villas and Grand Palms Resort Villas?
We have 4 different resort designations through RCI: Presidential Villas at Grand Palms Resort, Grand Palms Resort Villas, Grand Palms Resort of Myrtle Beach, and Grand Palms Resort Golf Villas. Each section has its own unique characteristics. For instance, the Presidential Villas at Grand Palms Resort have the most 3-bedroom, 3-bath condos while Grand Palms Resort Villas have the most availability for 2 bedroom lofts. Of course, there are many more similarities and differences. Read more about these resort designations in Reservation Tip #1: RCI Designates Grand Palms Resort as Four Different Resorts.


Have More Questions? We'd Love to Hear from You!
If you have questions that weren't answered here in our FAQ, we'd love to hear from you! Please post your questions in the comments below or email them to us at reservations@grandpalmsresortmb.com. You may also call one of our friendly Reservation Representatives at 888-913-4477 and they will be happy to answer any additional questions you may have. We hope to see you soon at Grand Palms Resort!